.."Helping Families Cope With Cancer"
---

External Links

ROB'S ARTTT

Chloe Bigmore

---
About The Foundation
The Nicola Corry Support Foundation was originally created to help Nicola and her family in her fight against a very rare cancer. Just after giving birth to a son, she needed to have chemotherapy treatment. The task of coping and caring for Alfie as well as enduring chemotherapy, was so immense for her family that her friends rallied round and created a fund to help her family cope.
After Nicola sadly passed away on 23rd May 2005, her family and friends wanted to continue with the Fund to help others in a similar situation.
This Foundation provides financial support for pre-school nursery, complementary treatments and holiday breaks.
In June 2006 it became a Registered Charity and then changed it's name to the Nicola Corry Support Foundation.
Since 2006 we have helped over 300 families with total grants in excess of £300,000 plus donations of £10,000 + to the Bristol NHS. The Foundation is managed by a Board of Trustees (click the link on the left to see the current bunch) plus a wonderful core of around 12 volunteers.
We do not have any paid staff, all our team donate their time and usually their money as well.
Often the families we have helped become fundraiser's themselves and so in their turn help other families.
The Nicola Corry Support Foundation (NCSF) is a Registered Charity whose main purpose is to help families who have a mother or a father suffering from cancer. We do this in a number of ways:
assist in the costs of childcare - nursery fees, breakfast and after school clubs
contribute towards transport costs for treatment
short breaks for families
Additional expenses brought on by illness
Wherever possible childcare costs will be paid direct to the carer who must be Ofsted registered. For further details please refer to our Award Protocol document.
Our main area of operation is the South West of England but we do help families in other areas. Where funding restrictions demand we will give priority to families, with young children living in the South West. Click on Apply for a Grant link on the left for more details.
**** We have a new Application Form which has been updated to comply with the General Data Protection Regulation - GDPR ****
You can download one from the Apply for a Grant section.
******* Please note our new telephone number - 0300 365 1715 *******
---
"Whenever evil befalls us, we ought to ask ourselves, after the first suffering, how we can turn it into good.
So shall we take occasion, from one bitter root, to raise perhaps many flowers."
Leigh Hunt (1784 - 1859) - English Author
---
---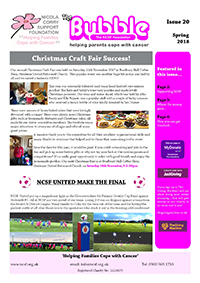 Newsletter Issue 20
---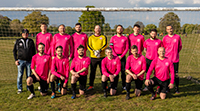 NCSF United
Bristol Downs League
<<more>>
---